San Francisco Progressives working together SF4ALL.org
— Special rally Monday at noon, weekend campaign events
Mon, May 23, noon San Francisco Reform Democrats Get-out-the-vote Rally
City Hall, Polk St Steps
The SF Reform Democrats candidates and supporters will hold a get-out-the-vote rally. Meet the candidates, come and vote early inside City Hall. Register to vote — last day to do this before the June 7 elections. Rally info
Sat-Sun, May 21-22, Campaign events
There are 9 events this weekend to promote DCCC candidates in the June election. You'll have the chance to meet the candidates and their supporters, a neighborly and enjoyable outing. On weekday evenings there is phone banking. See the schedule here.

Fight back against the real estate attack ad 5/19/16 — see Jon Golinger's letter.
Less than 3 weeks till the June 7 election, promote the DCCC Reform Slate
Sign up to
volunteer

at this nifty new site.
Give literature to commuters weekday mornings and evenings (work with the DCCC candidates, nice folks!)
Call supporters Monday–Thursday evenings.
Walk precincts weekends and weekday evenings.
Have a look and sign up here.
This is the big enchilada, especially the DCCC contest — be sure you and everyone you know cast ballots June 7.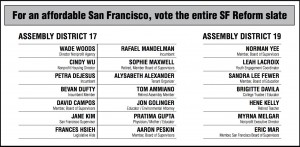 DCCC Reform Slate card — please print and distribute to others. (Revised 5/6/16)
Click on this link to download a pdf ​

SlateCard-ballot-2up.pdf

Print one page to take to the polls, OR
Print two pages back-to-back and cut to make two 1/2 sheet cards
Leave cards at meetings, coffee shops, bars, etc.
This is BIG! Be sure to vote for DCCC Reform candidates on June 7!

— The June Primary election: Progressive control of DCCC
DCCC (San Francisco Democratic Party) is the important election in the June 7 Primary. Be sure to vote June 7 for DCCC candidates on the Progressive slates, and replace the pro-real-estate majority with a progressive majority.
Tim Redmond nails the importance of the DCCC election in this report Which Side Are You On?
— The November General Election: Progressive control of the Board of Supervisors
Equally important is the composition of the Board of Supervisors. Currently this body has a 6–5 majority of Progressives but three of these will term out in January. To keep the important progressive majority in the BoS we need to support three candidates who are running for the open seats in the Nov 8 election:
Sandra Fewer (District 1) — Sandy had mobilization events last weekend assisted by a strong team of volunteers. Definitely a great group to work with, and Sandy is an impressive candidate.
Hillary Ronen (District 9) — Hillary's campaign had mobilization events last weekend as well. Be sure to get to one of these events in Bernal Heights and Outer Mission to support her difficult but definitely winnable run.
Kim Alvarenga (District 11) — Kim has strong supporters, a well-organized campaign staff, and she is an exciting orator with great energy and ideas.
Dean Preston (District 5) — Dean is an exciting orator and has been engaged in a neighborhood-by-neighborhood ground game for the past few years, even before he began his Supervisor campaign. He's in a tough contest against an incumbent Supervisor. The residents of District 5 have an opportunity to elect a progressive housing advocate who knows the territory intimately and who will greatly improve the lives of his constituents.
Even if you don't vote in these districts consider supporting their campaigns.
— Busy Weekends for Supervisor candidates
Each weekend there are events and mobilizations for progressive supervisor candidates — see "Upcoming events" below. Attend one or more of these to see first-hand the amazingly strong progressive field running for District Supervisors.
— June 7 Election DCCC, State Senate, SF Measures
— Nov 8 General Election SF Supervisors, State Senate, State & National ballot
— Recent News SF 2016 Elections in the media
— Recent events
The District 3 Democratic Club endorsed the following candidates and measures for the June 7 primary election at its May 3rd general membership meeting:
State Senate District 11: Jane Kim
Measures A, C, D, E, F and AA: Yes
Measure B: No
DCCC seats in AD 17: Alysabeth Alexander, Tom Ammiano, John Burton, David Campos, Petra DeJesus, Jon Golinger, Pratima Gupta, Frances Hsieh, Jane Kim, Rafael Mandelman, Sophie Maxwell, Aaron Peskin, Wade Woods, Cindy Wu
Superior Court Judge: Victor Hwang
Approximately 40 club members and guests queried our guest speakers, debated the issues, and weighed in. San Francisco reporter, editor and D3DC correspondent Tony Long wrote an account of the May 3 meeting.
Which side are you on? Tony Long, May 4, 2016 click here to read
— Upcoming events —
Mon, May 9, Absentee ballots mailed, City Hall early voting begins
Wed, May 18, Kim-Wiener debate — Postponed till after the June 7 primary.
Wed, May 18, 6:30-8pm urbanIDEA Weapons of Mass Displacement
Bindlestiff Studio, 185 6th Street @ Howard, South of Market
Homeless Sweeps, Police Killings, & SF's Crisis of Gentrification
Free, RSVP & donations requested http://urbanideaforum.brownpapertickets.com/
Info: http://us10.campaign-archive2.com/?u=854bd5e5e142baee5273a2101&id=9e9f511564&e=f6a8247bd8
Tue–Thu & Sat, through to June 7 election Support Sandra Fewer and West side DCCC candidates.
We will be mobilizing in the Richmond District and West side every Tuesday, Wednesday, Thursday and Saturday to door-knock and lit drop for Sandy and West side DCCC candidates!
Sign up here! More info: http://votesandrafewer.com/
Mon–Thu & Sat, through to June 7 election DCCC phonebanking & mobilization
Sign up at the nifty new site here.
Mon, May 23, Last Day to register to vote for the June 7, 2016, Election.

Note: If you are not a registered Democrat and want to vote for DCCC candidates this is the last day to re-register as a Democrat and receive a ballot with DCCC candidates. See below for how to register online.
Tues, Jun 7, Presidential Primary Election

Full election calendar http://sfgov.org/elections/important-election-dates-and-deadlines
Register to vote online: http://registertovote.ca.gov/
Vote by mail and other preferences: http://sfgov.org/elections/voting-june-7-2016-election