The June 7 election, promote the DCCC Reform Slate
— Upcoming events —
Tue, May 31 thru Tue, Jun 7 Campaign events
There are lots of opportunities this week to promote DCCC candidates in the June election.
Commute- Meet and work with the candidates at a commuter hub, an hour or so mornings and evenings.
Event- Join a pub crawl (Tue, Wed, Thu) or canvassing event to get the word out.
Phone- Weekday evening phone banking.
Have a look at the Campaign events schedule here.
Still confused about the SF political scene? Well, we all are so join the crowd. Learn from a group of journalists:
Thu, 6/2, 6-9PM SF Politics – What The Bleep Is Going On? A Crash Course for Newbies
Laborers Local 261, 3271 18th St. @S. Van Ness
Free, Registration required
Speakers: Melissa Griffin-Caen, KPIX 5; Marisa Lagos, KQED reporter; Joe Fitzgerald Rodriguez, San Francisco Examiner; David Latterman ; Randy Shaw, Beyond Chron; Evette Davis
Sponsored by RFK Democratic Club
— In the News —
Jane Kim endorsed by Bernie Sanders; Jane's new ad video "Our City" >>
Why the DCCC Real Estate bloc has to go >>
This is the big enchilada, especially the DCCC contest — be sure you and everyone you know cast ballots June 7.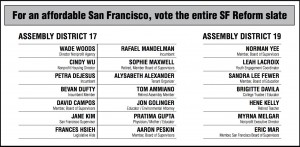 DCCC Reform Slate card — please print and distribute to others. (Revised 5/6/16)
Click on this link to download a pdf ​

SlateCard-ballot-2up.pdf

Print one page to take to the polls, OR
Print two pages back-to-back and cut to make two 1/2 sheet cards
Leave cards at meetings, coffee shops, bars, etc.
This is BIG! Be sure to vote for DCCC Reform candidates on June 7!

— The June Primary election: Progressive control of DCCC
DCCC (San Francisco Democratic Party) is the important election in the June 7 Primary. Be sure to vote June 7 for DCCC candidates on the Progressive slates, and replace the pro-real-estate majority with a progressive majority.
Tim Redmond nails the importance of the DCCC election in this report Which Side Are You On?

Fight back against the real estate attack ad 5/19/16 — see Jon Golinger's letter.